6 in 1 Hair Dryer Brush and Volumizer, Detachable Hair Dryer Styler, One-Step Hot Air Brush for Straightening Curling Drying Combing Scalp Massage Styling

The hot air brush dryer for women comes with six interchangeable brush attachments that make straightening, curling, volumizing, and scalp massaging a breeze. Combining blow drying with styling brushes, can fit different hair lengths and create different styles
Our hot air hair straightener uses advanced negative ion technology and ceramic coating to prevent frizz and static. Thanks to the combination of nylon pin and tufted bristles, our hair dryer brush minimizes tangling and breakage along with helping provide comfortable scalp massages
The hair dryer volumizer takes up 1000W and offers 2 temperature controls and 3-speed settings to give you more control when styling hair. It's also perfect for use in different seasons for all hair types to help you easily get the hairstyle you've always wanted
This hair air brush is lightweight make it easy to tote around anywhere and easy to maneuver which is great for your wrists. Let you create salon-worthy results
This hair styler brush is suitable for families, business trips, weddings, and vacations to give you the freedom to style your hair the way you want! The exquisite packaging also allows you to use it as a gift for friends, family, or anyone else you love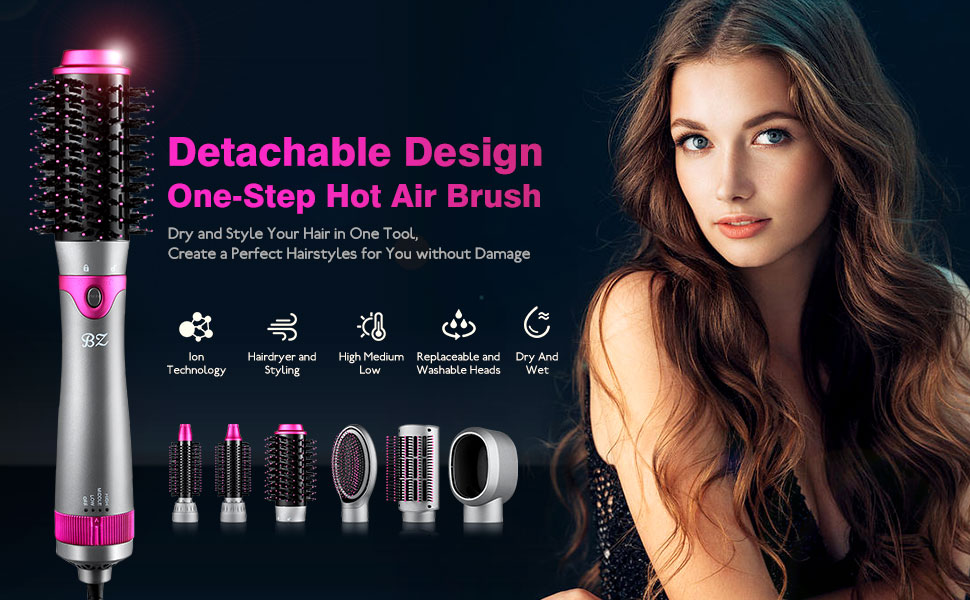 NOTE
1. Please follow these steps to replace the brush head to make sure they stay safe and don't fall off.
2. If you have very fine, thin, or short hair that is above your chin in length then we do Not Recommend you to use it.
3. Dry the excess water on the hair with a towel before styling for a better styling effect.
4. During the first few minutes of initial use you may notice a slight odor which is completely normal and it will quickly disappear.
5. Do not touch the brush head during use, in case for hurt.
6. For safety, please turn off the power after using the hot hair dryer brush. Store it after it cools down completely.
7. To protect your hands, please wear the supplied gloves when using.
Multiple Temperature & Speed Setting
LOW: low temperature 40°C, high speed, for dry hair / fine hair
MIDDLE: medium temperature 60°C, low speed, for semi-dry hair / normal hair
HIGH: high temperature 80°C, high speed, for wet hair / thick and curly hair


Negative Ion Technology
We use negative ions to deliver just the right heating to dry hair while reducing the damage to the stratum corner of the hair and make your hair shinier and smoother. The brush is designed with Nylon Pin and Tufted Bristles that help with detangling, controlling, and improve the volume of your hair.
360 ° Rotatable Cable
The 360-degree swivel cord offers more flexibility to move freely without the cord becoming tangled or getting in your way. To extend the life of the cable it is recommended that you don't wind the cord around the hot hair brush and avoid jerking, bending, twisting, or straining the cord.




6 styling accessories that can make the hair curl, smooth, dry, straighten and wavy.
Ceramic coating and ion technology will not cause friction, tripping and breaking.
With an efficient heating system, you can quickly heat your hair to reduce styling time.
Safe to use and reliable 1000w power provides the right amount of heat.
360-degree rotating cord allows for complete freedom of movement without tangling or getting damaged.

1. For best styling results, please use on damp hair rather than dry hair. 2. For easier styling, separate hair into sections before brushing it. 3. To create curls, you need to use the highest temperature and let your hair stay in the barrel for 4-5 seconds.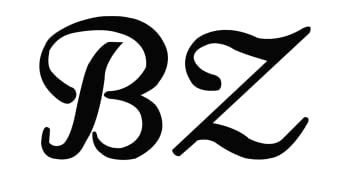 Package Include:
1 x Main hot air tube
1 x 54mm styling brush head
2 x curly brush heads
1 x Straight hair brush
1 x Massage brush head
1 x User Manual
1 x Gift box
1 x Insulation Gloves
Wattage: 1000W power
Dryer Temperature: 60℃-140℃
Hair Type: All
Color: Gray
Material: Nylon

FAQ
Q: Will the curling effect be better than curling irons?
A: Our curling comb are the wind blowing style, the effect is not as strong as the traditional curling stick, but it does not hurt the hair, please do not compare with the traditional curling irons.
Q: How to dis-assembly and install?
A: Installation steps: a) Insert by aligning the card slot position. b) Twist left to lock the brush head with more effort till you hear "click".Dis-assembly steps: a) Press and hold the remove button. b) At the meantime ,twist right to remove the brush head.
Q: Does it have leakage protection?
A: Our hair dryer brush not only has leakage protection, but is also an upgraded version of 2021. It is innovatively upgraded on the original basis and fully protected.SKU #1741
Ask a question about: 6 in 1 Hair Multifunctional Hot Air Brush and Styling Tools