Hair FAQ

Human Hair Extensions & Hair Pieces
Hair extensions are not something you can just 'put in' like hair dye or other hair accessories and products. While clip in hair extensions are easier, and there is more leeway for mistakes, human hair extensions that you apply with glue require much more skill and experience. It is always best to ensure that you apply any hair extension with a great deal of care. Hair pieces and extensions that are made from 100 percent real human hair are one of our specialties and we offer a variety of styles, including those made from European human hair as well as many other selections. We also offers Remy hair extensions, as well as stick hair shapes and pre-bonded hair extensions that are easier to apply. If you are not yet convinced that our products truly do look and feel like real human hair (because they are!), then you can always opt to purchase a hair extension sample in order to see it with your own eyes.
With everything from hair extensions care products to the most authentic human hair wigs and extensions, Hair Trade has all of your clip-in hair piece and hair extension needs covered! For more information, please click on the questions below to view the answers, or contact us today.
What are hair extensions?
Hair extensions are a technique of adding hair that is not your own onto your own hair. This is achieved by different methods (Weaving, Braiding, Bonding, Strand by Strand, Latch hook etc. ). They are applied by skilled hair professionals and offer instant methods of changing your appearance. They can be washed, cut and styled to a person's individual taste
How many packets do I need for a full head of hair extensions?
For hair weft under 18 inches, one packet is enough for full head. Over 18 inches, you should need more the one. If a hairdresser is doing your hair it is advisable to check with them as to how much you require for the hairstyle.
For the pre bonded hair, you should need 150-200 strands.Once again this depends on the style.
For other methods eg strand by strand you will need to consult with your hair dresser.
How long will it take to add extensions to my own hair?
It depends on what you want. If you are looking for just a few temporary extensions before you go out and dazzle at a party, or to enhance your confidence ahead of a mini-break with someone special, having hair added in need not to be a long process. However, if you are looking for a bigger and more permanent transformation it can take hours.
How can I do hair extensions by myself?
Clip in hair extensions, Instant clip in hair extensions and Onepiece quick fit hair extensions can be applied by yourself. For all other hair extensions including weft, pre-bonded and micro-loop we advise you seek a qualified professional hair dresser to fit your hair extensions.
How long do hair extensions usually last until they fall out or you have to take them out?
Human hair extensions usually lasts up to three months providing they have been cared for correctly using products designed for hair extensions. Weaves or braided wefts should be reapplied much sooner than that - every 4-6 weeks.
Will my new hair feel heavy?
At first you will definitely notice your extra hair. The extra volume may also initially be an enjoyable novelty - but it is surprising how quickly you get used to having a gloriously full head of hair. Our extensions are so closely matched in look and weight to your real hair that, within hours, they start feeling entirely your own.
How do I look after my extensions?
Your new head of hair will look and feel just like your own. With 100% human hair, you can wash, dry and style it just as you would your own hair. However, extra care must be taken to keep your hair extensions in top condition as unlike your natural hair, the extensions do not receive nutrients from the scalp. Special care must also be taken with synthetic hair extensions. Please read our Hair Extension Aftercare guide which explains how to care for your hair extensions correctly.
Can I use a hairdryer, hot rollers, hot sticks, tongs and other styling equipment?
Yes, all of the above can be used with 100% human hair and heat resistant synthetic hair extensions, however care must be taken by using a heat protector spray to avoid heat damage. Heat cannot be used on synthetic hair extensions that are not heat- resistant. Please read our Hair Extension Aftercare guide which explains how to care for your hair extensions correctly.
Is it safe to leave my hair to dry naturally?
Yes, once again, you can treat your extensions just like your own hair. Wet extensions look just as natural and organic as freshly washed hair.
What is real remy hair?
Remy hair is considered to be the finest quality of human hair. Cuticles are kept intact and aligned in the same direction, creating a smooth and natural appearance. This process ensures that the hair remains soft, silky and tangle free.
Guarantee
We guarantee that all of our human hair extensions are 100% selected Grade A real human hair. We accept all returns for quality issues and we will refund your full amount including postage, except for those hair extensions that have been chemically treated / processed by customers.
Hair Extension After Care

Washing Hair Extensions
Brush your extensions before washing so that they do not become tangled. Using a soft bristle brush, gently start at the ends of your hair and work your way up.
Always use a moisturising shampoo and conditioner - it will nourish and give the extensions a longer life. We recommend using I&K Moisturising Shampoo and Conditioner. Do not apply conditioner to the areas where the extensions are attached.
Use warm water (never hot) when washing your hair extensions and always tilt your head back - never tip your head forward.
After washing, pat dry and squeeze gently (do not rub, massage or twist).
To dry, blast the roots with a cool heat to dry bonds before styling.
No products should be used on extension bonds other than what has been recommended.
For those using clip-in hair extensions, you should only need to wash them after you have worn them around 4-6 times. Again, detangle before washing, soak in warm water letting the water run from the clip end down and apply a moisturising shampoo and conditioner. Gently run your fingers from the clip end downwards to clean the extensions. But do not scrub or twist. Pat dry with a towel and gently detangle. Finally, store your clip-in hair extensions with the clips closed to avoid any tangling.
Styling Hair Extensions
If you style your hair a lot, either blow drying or with straighteners, use a heat protector spray such as I&K Heat Protector Spray so that less damage is caused.
Separate hair to avoid matting and detangle hair gently with extension brush.
Always blow dry your hair on a low setting
To help with styling, we recommend I&K Styling and Fixing Spray to add volume and texture, I&K Shimmer Gloss Spray to give a high gloss shine or I&K Hair Extension Serum to revive damaged hair and smooth split ends.
Do not use wax or oils near your hair extension bonds.
Do not twist or play with the hair extension seals as they may loosen.
It is advised not to tint, colour or perm the hair extensions as the hair is already processed.
Do not attempt to remove your hair extensions yourself.
TOP TIP: While exercising, tie your hair up so that it prevents tangling. If you swim, always wear a swimming cap. Chlorine damages hair extensions just as it does to your own hair! A good tip is to coat your hair thoroughly with a mixture of water and conditioner if you go swimming, and wash thoroughly afterwards, applying a generous amount of conditioner. Also, when sleeping tie your hair in a loose plait to minimise tangling and matting.
How long do hair extensions usually last?
This depends on which hair extensions you have. If they are taken care of correctly, Remy hair can last on average up to 4-5 months, I&K Gold hair extensions (100% human hair) can last on average up to 3 months, and Synthetic hair can last on average 2-3 months. It also depends on how frequently you wash your extensions and how often you style your hair.
How long should I wait to wash pre-bonded extensions for the first time?
Do not wash your hair for at least 3-4 days after having your hair extensions put in so that the bonds can fully harden. The longer you wait, the better it is for the longevity of the bonds.
Why are the bonds on my hair extensions falling out?
The reason for bonds falling out is that they have not been applied correctly; therefore they can become loose and fall out. Using products that are not suitable for extensions can also cause bonds to fall out. It is essential to use products specially designed for hair extensions as many of the standard high street brands contain high volumes of sodium chloride (salt) which will dry out your hair, and silicone based ingredients which can cause the bonds to weaken. Do not apply products directly onto the bonds as this can also weaken them.
You should also take care when brushing your extensions so that you do not pull at the bonds - brush from the ends to the roots to detangle the extensions, using a hair extension brush.
Why are my hair extensions becoming matted?
Hair extensions can become matted easily if the incorrect products are used. When washing, use a shampoo and conditioner for dry hair that is moisturising and remember to tilt your head back, never forward and pat dry - do not rub or twist the extensions.
When brushing the extensions, start at the bottom and work your way up to the roots to avoid matting, using a brush specially designed for hair extensions. Brush your hair prior to washing to avoid any tangling.
When sleeping, tie your hair in a loose plait as this will minimise tangles and matting overnight. Do not go to bed with wet or damp hair, ensure it is fully dried before sleeping as this is also a major cause of matting in hair extensions.
My extensions feel dry, what can I do?
It is essential to use the correct products for your hair extensions. Extensions must be washed using a moisturising shampoo and conditioner for dry hair. Try to let your extensions dry naturally as much as possible as over styling and blow drying can damage hair and cause it to become dry.
Can I use a hairdryer, hot rollers, hot sticks, tongs and other styling equipment?
Yes, you can use all of the above with real hair however with synthetic hair tongs cannot be used unless stated. When styling, use products to protect the hair such as I&K Heat Protector Spray as the more heat you use on the hair extensions, the shorter the life span of the hair.
Is it safe to leave my hair to dry naturally?
Yes, you can treat your extensions just like your own hair. It is more beneficial to leave your hair to dry naturally as this will mean less heat and styling damage, keeping your extensions in better condition. However, before sleeping, ensure that extensions are dry before going to bed.
Can you colour hair extensions?
We do not recommend that you colour the hair extensions as the quality of the hair cannot be guaranteed after it has been coloured. Just like your own real hair, colouring the extensions can cause damage and weakness, therefore it will shorten the life span of the extensions. If you choose to colour your extensions, we suggest testing it on a small area of the hair first to ensure the colour takes to the hair and does not cause damage. Please note, we do not accept returns under any circumstances if the hair has been coloured.
Colour & length

The hair extensions we sell are available in different lengths: 14", 18", 22", 26"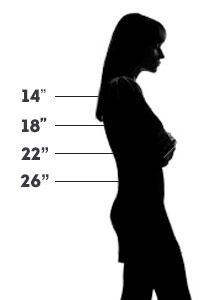 I&K colours:

Colour tips

Buying a colour ring has never been more affordable! This is a great option for frequent hair extension and hairpieces wearers, and makes changing colours a breeze. It is also fun to share with friends and family.
When selecting a colour, please keep in mind that an exact match may not be possible. Try blending a colour that is slightly lighter or darker than your own hair, as it is likely to look more natural and will add depth and variance to your colour. It is also possible that there is tiny discrepancy between the colour ring and the actural hair pieces because colours of batches from manufactures deliveried vary little and as long as they are within a acceptable level. Therefore we strongly suggest you to order individual sample of the product or let us to match it for you
Finding the perfect colour for you is easy. Simply send us a hair sample or a piece of fibre from your favourite hair extensions or hair pieces and we will match it for you. Alternatively, you can upload an image of your hair by logging into your account and select the option within the My Account page. We will then find the closest match to your hair
I need more information about a product
We include as much information as possible about a product on the product page. Usually, more detailed information like product length and units can be found on the product page. If you need more detailed information, please contact us quoting the product name, model(if available), which can be found on the product page (e.g. Human Hair Silky Weaves P27/613).
Will you be getting any more in?
Unfortunately some items will be out of stock or be removed from the site altogether if discontinued. Please be advised that our Customer Care team cannot tell you when a product will be back in stock. Tip - We often take repeat deliveries of popular products and occasionally customers will return items to us that do not fit. We would advise you to keep checking the site to see if your desired item becomes available again.
The product I ordered is now reduced. Can you refund me the difference?
Unfortunately, we cannot advise you in advance of a reduced product or reimburse you the difference after you have placed an order.
I saw this item in an advert but cannot find it on your site
This means that the product is temporarily out of stock or has been discontinued. Tip - We often take repeat deliveries of popular products and occasionally customers will return items to us that do not fit. We would advise you to keep checking the site to see if your desired item becomes available again.