Get the Look: Jennifer Anniston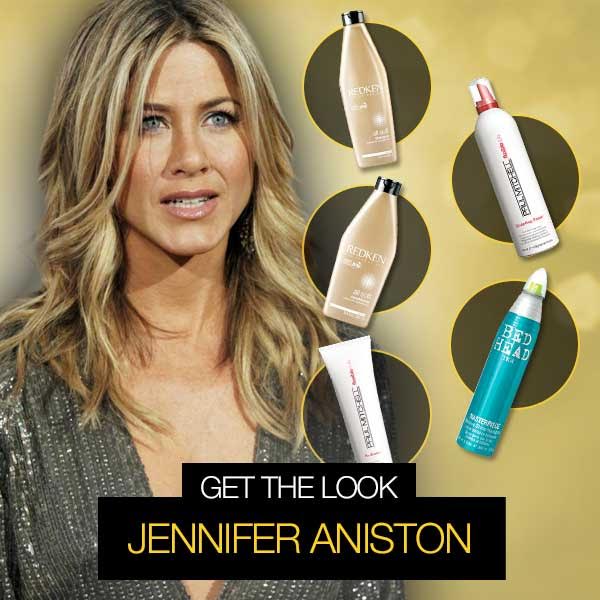 If there's one celeb that's been watched for decades for her flawless hairstyles, it's Jen. From 'The Rachel' to super sleek, straight and styled, wavy and back again, Jennifer Anniston has sported it all. No, better than that - she's rocked them all!
Lately, Jen's style has been very much in favour of the much loved beachy waves look. Not only does it suit her, but she makes it look so effortless. Can you blame her? Some of her previous styles have looked so pristine and well cared for, it's about time she sported a much more laid back and low maintenance style. The best thing about Jen's look? You can steal it too. It definitely looks so easy to achieve, but that's because it is. With the right products, prep and a bit of patience, you'll be sporting The Jen in no time at all. Just follow our five easy steps…
Step 1
The look can be achieved on day old or freshly washed hair, but the prep will be slightly different. If you're washing your hair, use something to keep it well conditioned like the Redken All Soft Shampoo and Conditioner for a healthy base
Step 2
Towel dry the hair to take out most of the moisture before beginning to apply your products. To achieve Jen's very natural looking beachy waves, you need texture. Start by applying a product like Paul Mitchell's Re-Works Texture Cream.
Step 3
Now, you'll need to dry off the hair. Rough dry from the roots to ensure all moisture is taken out of the hair, not worrying too much about keeping it smooth. We want as much body as possible here.
Step 4
Then, we can start to style. Using electrical heat, like Cloud Nine's Waving Wand will give you the best results. Split the hair into sections and start with the bottom layer. Wrap the hair around the barrel and hold for 5-10 seconds, depending on how deep you want the wave. Repeat throughout the hair.
Step 5
To finish off the look, take a texturising foam like Paul Mitchell's Sculpting Foam and add a little bit to your hands. Roughly run it through the waves to break them up and give them that natural messy edge. Style as you please here. Once you're happy with the style, set the look with a conditioning finishing spray like TIGI's Bed Head Masterpiece