Get the look - Jennifer Lawrence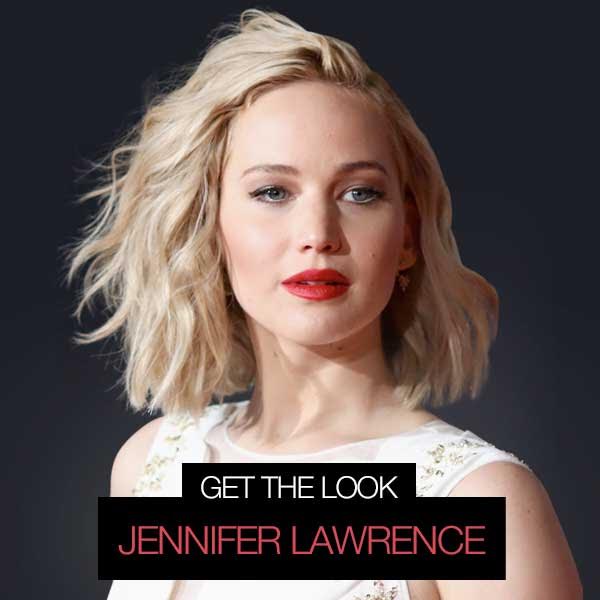 Everyone knows that Jennifer Lawrence is the hot celebrity who plays Katniss Everdeen in the Hunger Games movies. Not only is she a rising star, having played roles in Silver Linings Playbook, American Hustle, Serena, and Joy, but she has also won many awards for her roles in these films. Her looks are also incredibly well followed by her fans as they love the various styles which she highlights on the red carpet as well as many other fabulous locations. Jennifer's most recently fabulous hair style is that of her platinum colored beach waves paired with her film noir style
Step1 - Washing
one of the easiest ways is to begin by washing your hair. We suggest trying Redken Curvaceous Cream Shampoo which will help your hair get those beautiful beach waves. It does this by encouraging the waves in your hair without having to wait until your hair gets dirty to get the amazing look that you want. And of course we also recommend trying this shampoo to get your hair the hydration that it needs to look and feel fabulous.
Step2 - Styling
Allow your hair to air dry as blow drying will eliminate any of the natural curls and waves that your hair will possess from the texturing shampoo and conditioner. However if you choose to not shower or don't have time, simply use Macadamia Natural Oil Volumizing Dry Shampoo to help remove excess oils from your hair and help to give your hair more style abilities. In an added bonus this dry shampoo has macadamia oil to help with dried and splitting ends as well.

Once you have air dried your hair, use a little sea salt spray to help give your hair that real beachy look. We highly recommend trying Redken Fashion Waves 07 Sea Salt Spray because it is good for just about all hair types and hair conditions. Plus this surf spray works incredibly well when attempting to get your favorite beach hair looks and styles. Remember to only use a light spritzing of the spray all over your head to ensure that each section has a light coating, then gently run your fingers through to incorporate it into your hair.
Step3 - Making Wave
Now it is time to break out the irons. Warm up your curler, ensuring that you wear a heat resistant glove while curling your hair to avoid getting burned. This curling iron not only heats up quickly but allows you to style your hair quickly while giving it a little shine. Take sections of hair, not concerning yourself with the neatness of the section, and wrap it around the barrel of your curling iron. Go section to section until your hair is completely curled. After curling all your hair in a messy fashion, simply run your fingers through the curls to break them up and loosen them.

We recommend finishing this look off with a little more of your texture spray to help give your hair a weighed down look without wiping out the curls that you have created. If you wish to add a more wind-blown effect to your hair as seen in the photo of Jennifer Lawrence, you can simply shake the curls around to help give them a random feel, then use your dryer to give them a little extra wind whipped look.
Step4 - Touch-ups
It is important to know how to touch up your hair throughout the day to keep your style looking beautiful. Simply spritz on a little TIGI Catwalk Curlesque Curls Rock Curl Amplifier which is the perfect travel size and is easy to toss into your purse when you are out and about. Once you have sprayed in your beach texture spray, simply run your fingers through your hair and scrunch them around a little bit to help them keep their form. This is also a good trick when you have curled or waved your hair and need a quick touch up before your hair gets out of hand.